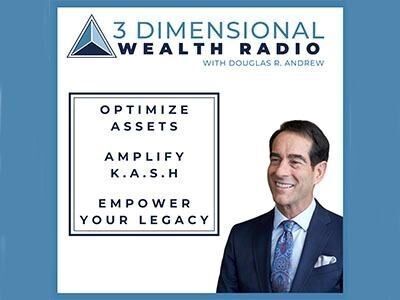 For more than 40 years, Douglas R. Andrew has helped thousands of clients achieve a more abundant life through sound principles, innovative strategies, and impassioned dedication to what he calls the Three Dimensions of Authentic Wealth...
Optimize Assets + Amplify K.A.S.H. + Empower your Legacy.
Show Links:
---
Doug Andrew established his financial practice in 1974 and quickly established a reputation as a trusted and passionate financial strategist. In 1982, Doug and his wife Sharee experienced a "defining moment" that changed their lives forever. They went from a six-figure income and owning their dream home, to financially losing their house and starting over again.
This experience changed the way Doug and Sharee not only handled their own finances, but also the advice Doug gave to his clients. He no longer took all traditional financial advice as fact—he adamantly refused to "follow the crowd" with his money, just because everyone else was doing it. Instead he delved into extensive research to uncover sound financial principles and tools, what he now calls "The Swing and the Clubs". See more at https://3dimensionalwealth.com/about/.